PTC Board Members
Volunteer Crew
The Pasadena Tri Club is created and led by volunteers. Volunteers lead training events, support races, and give back to our members. Volunteering and helping lead the club is a great way to get involved, give back to the community, and enrich your experience of triathlon. Interested in volunteering? Contact the info@pasadenatriclub.com, any contribution big or small helps make the club what it is.
Board of Directors
Elected by the members from the members, the Board of Directors is the governing body of the club. Board meetings are casual and open for members to attend. PTC's Board members create the core of our volunteer group that catalyze the club's activities, membership benefits, and relationships with the community.
2020 Board
GT Erguiza - President
, president@pasadenatriclub.com
Bio: Lifelong athlete and multiple Ironman Finisher. Constantly learning and passing on the knowledge.

President: Provide overall leadership and direction for Pasadena Triathlon Club. Working inconjuntion with the Pasadena Tri Club Board of Directors to establish long and short term goals, training, and social events for our members. I want to make sure our members are getting plenty of support and group training activities. Triathlons are an individual sport, but as a Pasadena Tri Club member, I want you to know you are part of a team. You have teammates to lean on for support, knowledge and training.



Tyler Long - Club Secretary, secretary@pasadenatriclub.com

Lynda Neuman - Treasurer, Training Director
, treasurer@pasadenatriclub.com, training@pasadenatriclub.com
I am co-owner of UMS Banking in Glendale California. When I was 42 yrs old, I started to exercise because I did not want to grow old and incapable. I decided that, if I never missed a day of exercise, I would never get unfit again. For over 12 years - I never missed a day of exercise. Somewhere along these 12 years..................
My husband and I decided to do a Half Ironman in 2005 after seeing a 70 yr old man come over the finish line in a Half Ironman at St Croix, where it was so hot you could hardly breath! Neither of us could swim and our long run at the time was 6 miles. We would do 15 miles on our bikes and think we were bad ass. We hacked around for the next year - trained ourselves --- somehow survived the 70.3 miles - and 2 days later we were on the internet looking for a coach. We found Rich Strauss, who was the founder of Pasadena Tri Club and a Coach. He was also an officer in the Maine Corp. Being coached by Rich was life-changing because he taught me that the only thing that limited me - was me.

To date, I have done 38 Half Ironmans (5 of which were at the World Championship Half Ironman), 2 full Ironmans, and countless half marathons. After coming across the finish line in my first Half Ironman, I never looked back.

I love the sport of Triathlon. I also love helping others achieve their goals in this sport. I have been Training Director for PTC for the last 3 years.
I am here to help you in any way I can.


Alvin Hom - Race Director
, race@pasadenatriclub.com
Bio:
I've been a couch potato gamer for most of my life. In 2011 I found my self middle aged, obese and not feeling well. The doctor told me I had fatty liver which the only cure was to loose the weight. Jumping in to fitness was a new thing for me. First triathlon was the 2011 Long Beach Sprint Triathlon that I did on a dare with some college buddies. From there I found Pasadena Tri Club and was hooked on the fun and camraderie the club provided ever since. (I've given up gaming... sort of!) I've done over 66 races (According to Athlinks!) with a steady dose of Half Marathons, Half Ironmans, Ultras along with a sprinkling of Full Ironmans on top!
As Race Director I bring enthusiasm and seven years of racing experience to the club. I really enjoy helping make sure that members have a good racing experience!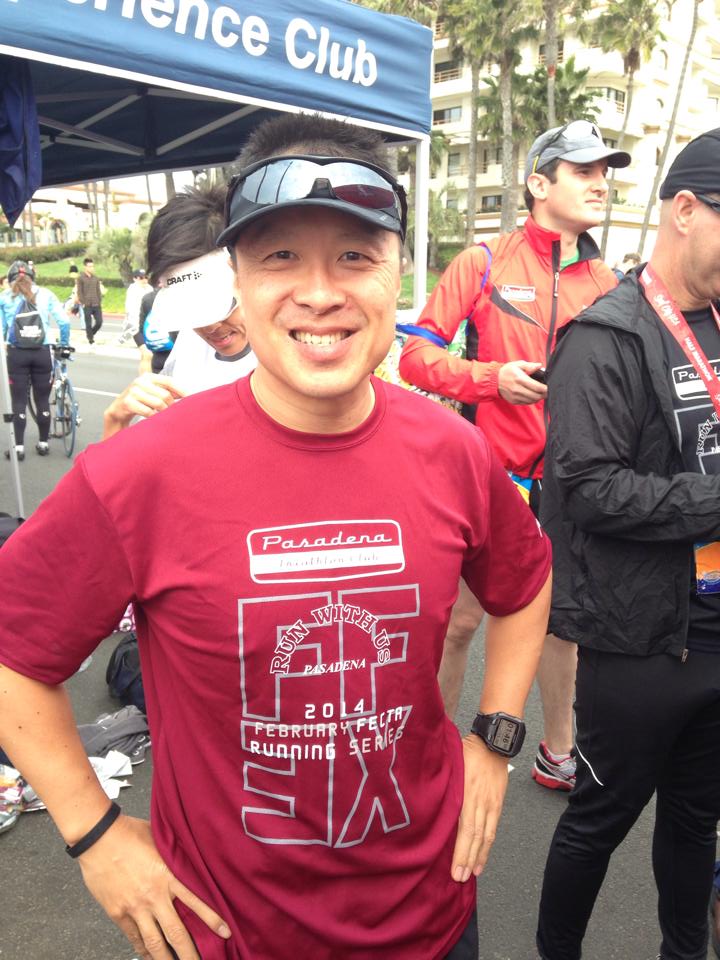 Joe Wong - Membership Director, members@pasadenatriclub.com
Bio: From the couch to the Ironman Finish line, I'm in the back of the pack and cheering on our friends. My wife and I live in South Pasadena. I have a daughter in college and son in high school. I started getting into triathlon as a way to get some healthy habits and friends with healthy habits, and got carried away from there.
My friend Zack filmed my journey to Ironman Mont Tremblant 2016; click here.
Since then, I finished my 2nd full Ironman Louisville. Picture below.
Membership Director: The Pasadena Triathlon Club is just that. It's Pasadena locals, that are into Triathlon, and workout together as a club. Our club does workouts and races together. My job is meet and greet and point people in the right direction, toward the finish line. Come on out and meet the Club!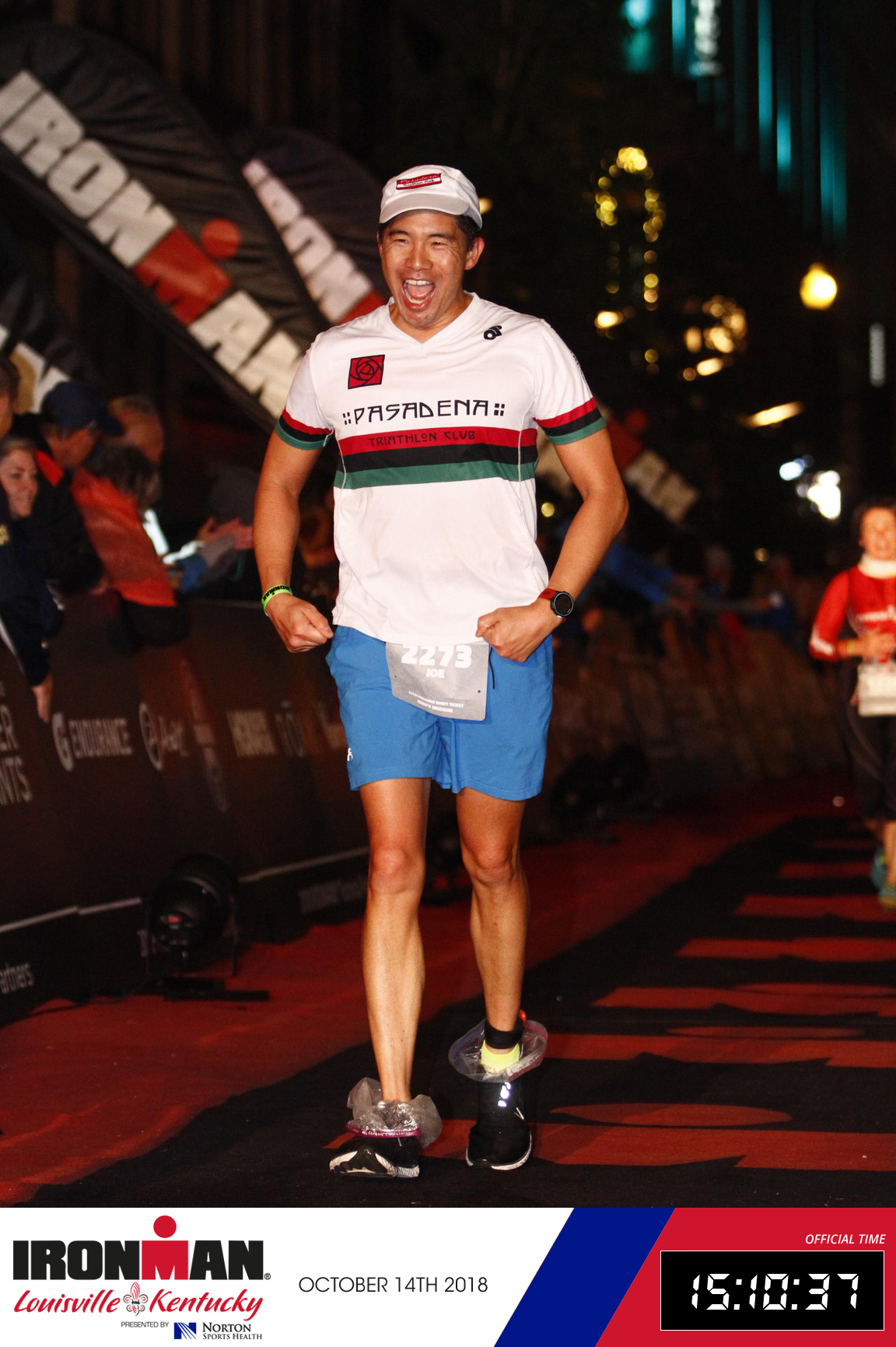 Bob Montes - Sponsorship Director
, sponsors@pasadenatriclub.com
Bio: Age group athlete that enjoys group activities, fitness and friendly competition! New to triathlons and open to all types of training regimens and racing opportunities. Excited and fortunate to have found many friends and training partners with Pasadena Triathlon Club.

Sponsorship Goal = Partner with our awesome Sponsors to increase awareness and participation with our PTC Members. Collaborate in enjoyable training and race activities with our Sponsors and our PTC Members that includes their goals for product, services and membership growth.
Julie Yu - Media Content Director
Short Bio:
A recreational triathlete with a great love for being outside with other like-minded folks.
My Vision:
To curate a greater media presence for Pasadena Triathlon Club, one that I hope can be representative of the amazing qualities our members possess such as resilience, teamwork, and unbridled joy. #pasadenatriclub